Distressed American Flag Wall Art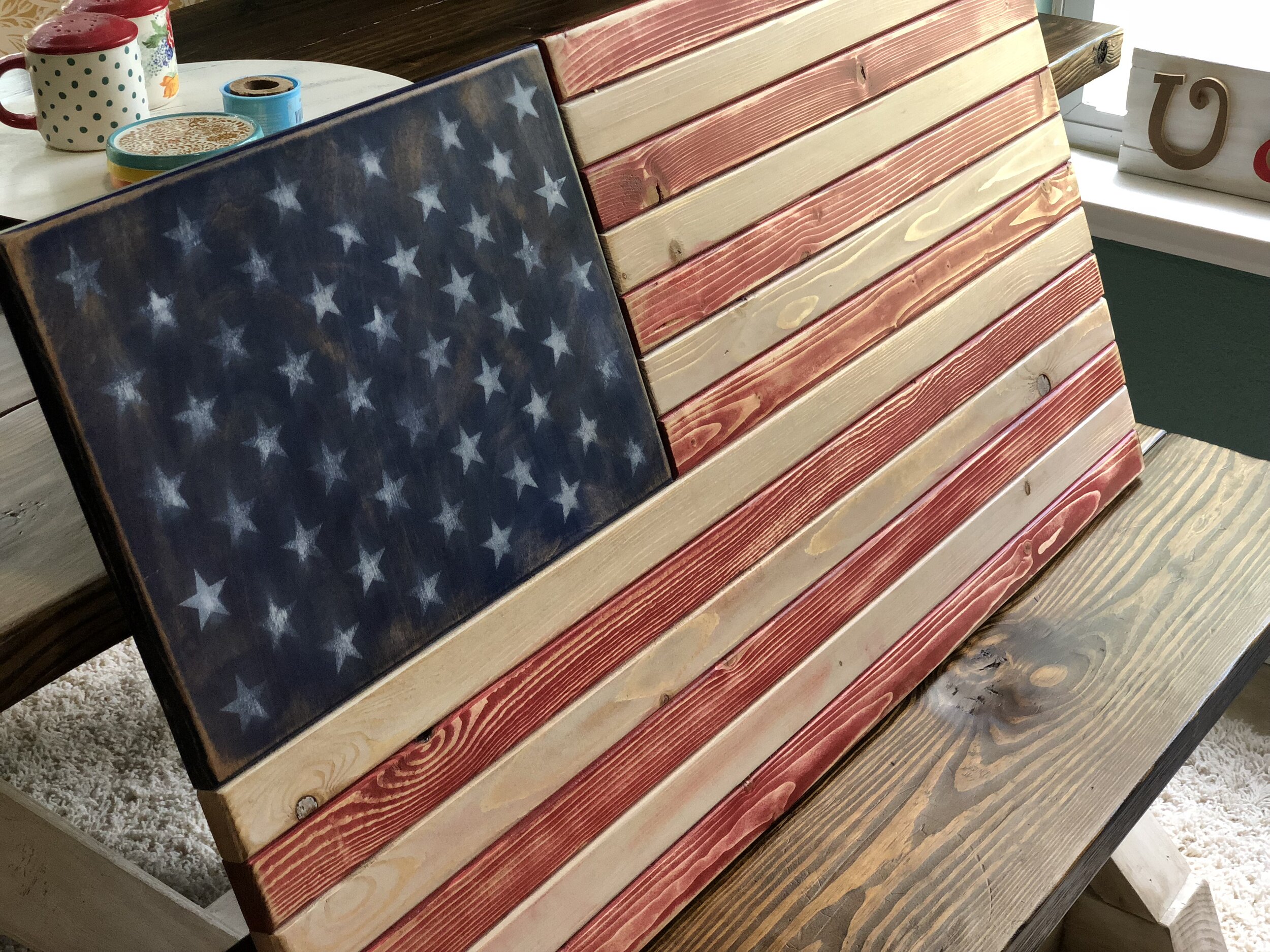 Distressed American Flag Wall Art
This rustic American Flag is made out of wood. The flag is distressed to give it a subdued, worn flag look. Proudly display this American Flag to show your patriotism! Proudly display your patriotism with this rustic American Flag! This piece is completely made by hand and one of a kind. The flags are all wood, hand painted and stained, and distressed to give them a worn, weathered appearance. Flags comes ready to hang and will make a beautiful statement in any room in your home!
This custom American Flag measures 37" long, 20" tall and 1.5" thick. Stained, painted, and distressed then a clear coat is applied to protect the finish. The union is stained blue and the stars are stenciled with white paint. The stripes are stained white and red. Be aware that stenciling paint is not perfect. Sometimes there is slight bleeding of the paint under the stencil and can cause the lettering or silhouettes to look a little less than perfect. I try to keep them as crisp as possible and clean up the bleed as best I can but it is not always possible to get them perfect.
Since these are built to order, please allow 2-3 weeks for delivery. Your items will not be the ones pictured, but are made to look similar. Since they are made from solid wood, there will be differences in the wood grain, knots, distress marks, etc. which make each flag unique. Hanging hardware installed on the back. Recommended for indoor use only!
If you want to see how I build these flags, there is a detailed video here: https://www.youtube.com/watch?v=e1sc1z9LGQc&t=936s
Shipping:
Your order will be mailed by USPS Priority Mail and will come with tracking information!