Black Cherry Stained Noodle Board - Black Cherry Stove Top Cover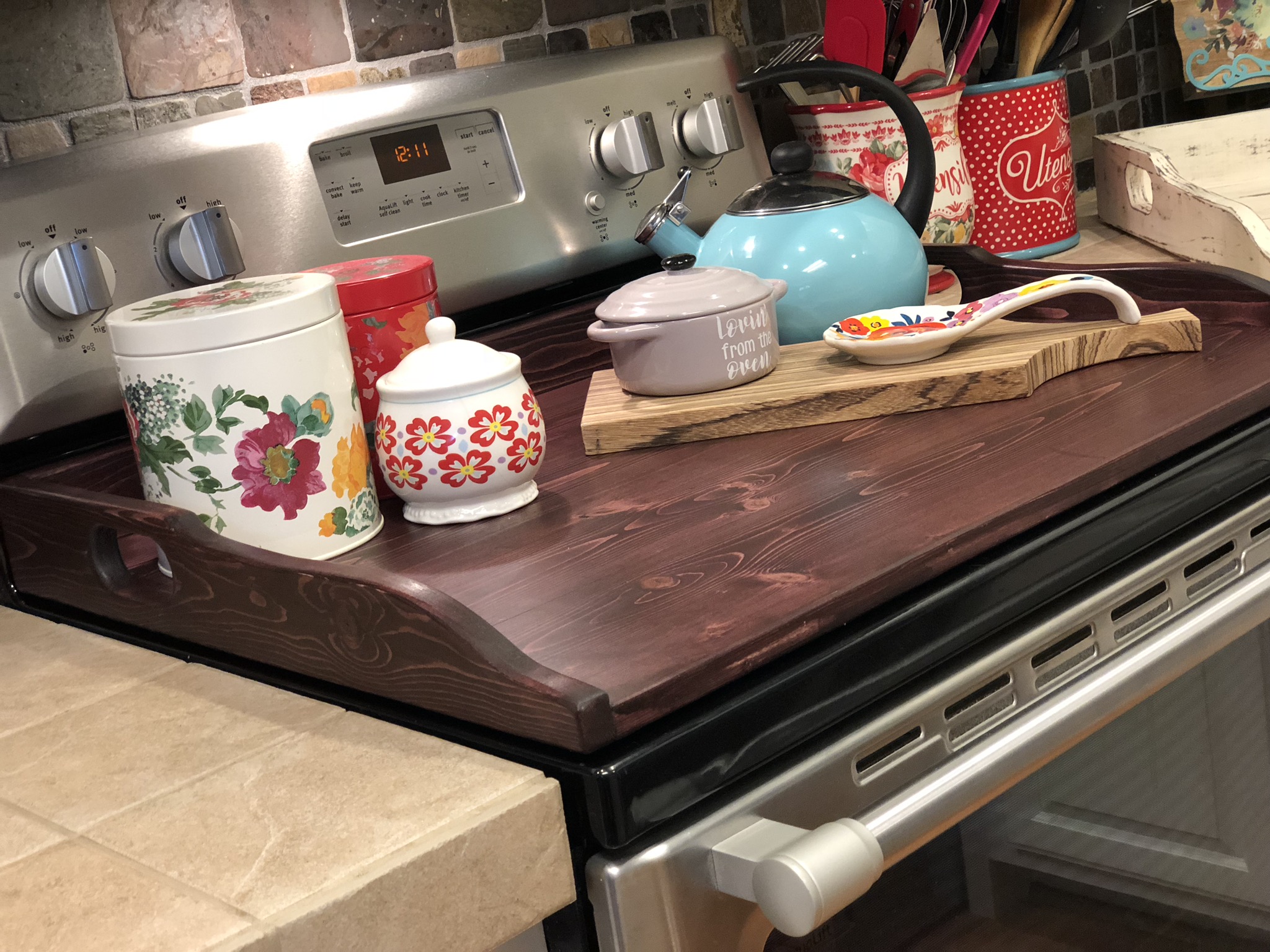 Black Cherry Stained Noodle Board - Black Cherry Stove Top Cover
Noodle board. Stove Cover. This stove top cover is stained Black Cherry. This item SHIPS FREE ANYWHERE IN USA These custom sized noodle boards are built to order. This is a handmade solid wood noodle boards that will be an amazing statement piece in your home! This is a wood stove top cover, built by hand in Arkansas. I take pride in my work and ensure that there are no gaps between the joined boards, sand all surfaces down smooth, I then sand the sharp edges off of all sides that can eventually chip, crack or split if left un-sanded. After all of the building is done, I paint, stain and/or distress your item which gives it that modern yet rustic look that everyone loves! Perfect for adding extra storage, perfect farmhouse decor, yet functional in any modern kitchen. Add farmhouse decor to any kitchen with a noodle board. These noodle boards, also sometimes referred to as stove top covers, are the perfect way to dress up any stove, in any kitchen. These boards offer vintage inspiration for even the most modern person. This can be used as an ottoman tray, farmhouse kitchen decor, serving tray, farmhouse serving tray or many other uses. You can also use these boards as large serving trays or ottoman trays. The boards have felt pads attached underneath to help protect your electric range from scratches or scuffs. They can also be placed on top of gas ranges (not recommended if you have a pilot light that stays lit).
See how we build our boards here: https://www.youtube.com/watch?v=5xSmXRV4l2A
We build these to order to fit your range. Since these are built to order, please allow 2-3 weeks for delivery. Please put the measurements and color desired in the note to seller area. Measure the width you would like (left to right of the range top). Also the length (front to back of the range top). Keep in mind some range tops have a curve near the back. We recommend measuring from the start of the curve to the front of the stove. The boards look better if they are slightly smaller instead of too big for the range top.
Each set is made to order. *Your items will not be the ones pictured, but are made to look similar. * Since they are made from solid wood, there will be differences in the wood grain, knots, distress marks, etc. If you prefer the more rustic knotty looking wood, please leave me a note with your purchase and I will do my best to use pieces that have a more rustic feel!
Because they are made to order, you may request that I customize them with a different color stain. If you would like a custom color stain, please message me before ordering and I will do my best to get the exact look you're going for!
Shipping:
Your order will be mailed by USPS Priority Mail and will come with tracking information!
Disclaimer: Not recommended for food preparation. These are not meant to be food safe. Storage recommended only. Also make sure the stove is OFF and COOL before placing the noodleboard on the stove. We are not responsible for damages caused due to you leaving it on the stove. These are made from wood and will burn. Be sure to remove the board before turning the oven or range top on.
Keep in mind that these are made out of wood. And with any wood product grain patterns, knots, and general appearance may differ slightly from actual photos in this listing.
We build these custom order. In the checkout form please specify the size width and depth you want.
Other colors may also be available at different times. If you want a color not listed please message us at 731woodworks@gmail.com and we will try to work something out. All colors posted can also be distressed and lightly antiqued.
#noodleboard
#noodleboards
#farmhousedecor
#kitchendecor
#stovecover
#stovecovers
#servingtray
#ottomantray
#rusticdecor
#farmhousekitchen
#farmhousedecoration
#diynoodleboard